Rathin Roy
Director
---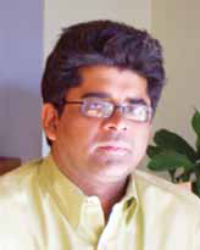 Rathin Roy took charge as Director NIPFP in May 2013. Prior to joining NIPFP, he has been the Director of Asia Pacific Regional Centre, UNDP, Bangkok, and the Director, International Policy Centre for Inclusive Growth (IPC-IG), UNDP, Brazil. He has also served as the Public Resource Management Advisor, and the Acting Cluster Leader, Inclusive Development, in the Poverty Practice, Bureau for Development Policy (BDP), UNDP. On invitation from the Government of India, he also served as the Economic Advisor to the Thirteenth Finance Commission, a Constitutional body of the Government of India. Recently, he has also been appointed as part-member of the Seventh Central Pay Commission, constituted by the Government of India. He has worked in over 80 countries during and prior to his tenure with UNDP, and is a well known figure in the world of applied macroeconomic and fiscal policy.
He holds a PhD in Economics and an MPhil from the University of Cambridge, UK. Post-PhD, he was tenured in the Economics Faculty at the School of Oriental and African Studies (SOAS), University of London, and an Economist with the Institute for Development Policy and Management, University of Manchester.
Recent publications
Membership in committees and commissions
Member, Seventh Central Pay Commission, Government of India
Member, Prime Minister's Task Force on Elimination of Poverty in India, National Institution for Transforming India (NITI Aayog)
Member, Expert Group for UNESCAP: Economic and Social Survey of Asia and Pacific
Member, Advisory Group to the Finance Minister on G-20 issues
Member, Project Management Committee (PMC) for 3rd three year cycle of Mid-Career Training (MCTP) for IAS Officers (2013-14, 2014-15 and 2015-16)
Member, National Training Council under the chairmanship of Minister, Ministry of Personnel, Public Grievances & Pension, for giving overall direction for the implementation of the policy. (September 3, 2013 – onwards)
Member, Small Group to prepare Central Memorandum for the Fourteenth Finance Commission, Ministry of Finance, Government of India
Member, Board of Governors, Institute of Economic Growth, Delhi
Member, Governing Body, National Centre for Good Governance (NCGG), New Delhi
Member, Reader Group, Global Human Development Report, UNDP
Member, Advisory Council for the K.M. Mani Centre for Budget Studies, Cochin University of Science and Technology
Member, United Nations Environment Programme (UNEP)-Inquiry into a Sustainable Financial System – Member, India Advisory Committee
Member, Meta-Council on Inclusive Growth, World Economic Forum, Geneva
Member, Advisory Committee to Review the current Ways and Means (WMA)/ Overdraft (OD) Scheme facility to the State Governments by the Reserve Bank of India
Member, ASSOCHAM Think Tank
Member, Technical Advisory Group for the Biodiversity Finance Initiative in India, Ministry of Environment, Forest & Climate Change, Government of India (8th May 2015 – onwards)
Member, Search-cum-Selection Committee constituted for selection of Deputy Governor of RBI
Member, RIS Review Committee to carry out a comprehensive review of the Faculty Positions at RIS and their pay scales
Member, Lok Sabha Core Group Committee on the proposed Knowledge/Research Initiative

Member, Research Advisory Council (RAC), RIS.

Member, Executive Body, Atal Bihari Vajpayee Institute of Good Governance and Policy Analysis.

Member, Advisory Board of Urbanisation, IIHS Bangalore.
Professional activities
Fellow, Cambridge Commonwealth Society
---